First off, I have to share the album that made my long, lovely Sunday walk nearly heavenly. It's the Gaslight Anthem's side project, The Horrible Crowes. I want to eat this song like it's fudge:
Gorgeous, right? Another thing I more than like is the fact that New York's "Fashion" section is claiming that crazy-colored hair is way in style this season. Why do I like this? Because my hairdresser and I have been planning some shenanigans for this winter, and it's nice to know I'll be trendy rather than just nuts. Here's the hot photo from the fun article, click to follow it over: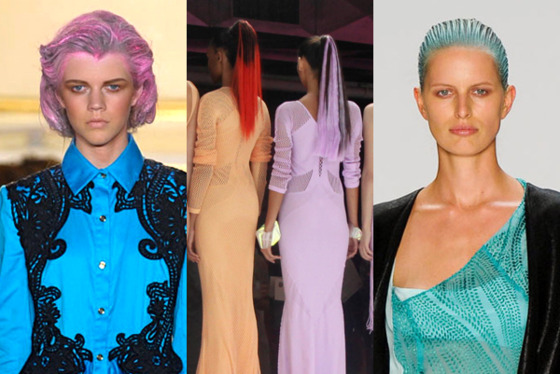 In furniture, the Thing I Really Like right now is my new lamp. Isn't it sweet?
It's heavy and gorgeous and it means my reading corner is back in action. Yay for light/table combos!
Finally, I have to ask you about what YOU like. I just bought tickets to go to San Francisco to visit my lovely friend Jana, and also to attend Juliet Blackwell's annual Halloween party. I need to look fabulous and slightly trampy.  The theme is Carnival. Where should I look for a costume??? HELP!