Hello mah friends!
This finds me writing from Illinois, for I have been repatriated. I came back from London on Monday, and I only cried a tiny, tiny bit. Mostly because I was too tired to summon the energy for tears, and because after a month of glorious decadence I was actually ready to get back to a routine. And by "routine" I mean fruit smoothies and zumba.
That said, my last week in London couldn't have been nicer. On Monday, I got back from Whitby, and did absolutely fuck all but recover. Then Tuesday I worked and worked, before making tacos for Dr. Ruth. Wednesday I worked and worked, before going out for delicious tapas with Linda. And then Thursday, I worked and worked before my friend came in for one last visit.
Sometime during All That Working, however, I did IT again. In my third book, something happens at the end that is Very Big. A character we thought was one thing turns out to be another. I think IT works perfectly, and IT was one of those things that, as I was writing IT, suddenly made perfect sense.
The problem was that I hadn't planned IT to happen. That character had been slated for a totally different role in the rest of the series. Her doing what she did was awesome, but IT totally threw a wrench (a good wrench, I think, but a wrench nonetheless) into the works.
So I was writing either Wednesday or Thursday, and I was finishing the book. I had but a few more pages to write. And then IT hit me. Again. A totally mad, totally awesome, totally book six changing idea. At first, however, I dismissed IT, as IT was SO huge.
But IT stuck with me, like a burr in my hair. My poor friend came in Thursday, and I was totally distracted. I think he thought I was already pining for him, bless, when I told him I couldn't stop thinking of the end. He reminded me we still had the whole weekend together. I told him I meant the actual ending, of my book. It was one of those deliciously awkward moments I live for, and if I wrote about a writer I'd use it in a novel.
Anyway, I finally had a talk with my marvelous agent, and by that point I'd gone over the scenario a million times in my head and I realized it was the right thing to do. It DID bugger up my plans for book six, but that's because my plans for book six sucked, quite frankly. The Mad Idea will give book six a great tension, and I'm seeing a whole 'nother facet of book five that I can now explore, and that might otherwise have been dropped.
So Saturday morning found me frantically writing. My friend popped off to the comic shops to give me some working space. The ending came stark and glorious to my fingertips, flowing into my computer with a relish that was the same as when I wrote the ending of book 3. It just felt right. I had about a paragraph left when my friend came back, and he found it equally glorious to natter at me while I was trying to get out those last lines, giggling when I threatened to end his life. But he did finally leave me alone, and I finished.
And it felt goooooooood.
So book five is in the can! I pretty much immediately sent it off to my critique partner Diana Rowland and to my friend Mary Lois, for them to give it an initial "What Does and Doesn't Make Any Sense" read. Then I'll give it a polish based on their feedback, and send it off to the other members of my Alpha Team, James Clawson and Christie Ko, for their input.
Immediately after finishing the book, however, I had to rush to get ready and head out to a signing at Forbidden Planet. I'd gotten an amazing dress from Vivien of Halloway just the day before, although of course I didn't get any pictures. I'll be wearing it next week in Denver, at RomCon, so will endeavor to be more organized. But the signing itself was awesome. I got to meet some of my UK fans, some of whom brought me some amazing presents. It was also great to hang out with Philip Palmer again, whom I adore, and it was equally nice to meet Simon Morden and Tim Lebbon. Tim's last name is pronounced as one would the beginning of Lebanese, but the staff kept pronouncing it Le Bon (like Simon) over the PA, sending us all into fits of laughter.
After the signing, Orbit UK arranged some drinks to be had at a local pub for the authors and some local bloggers and journalists. It was great fun, and I was quite happy to celebrate both finishing book five and a successful signing. Eventually, Dr. Ruth and her friend Russel wandered in, and we all had dinner downstairs at the pub. Then we all went to see a West End show, The 39 Steps, and it was the absolutely perfect end to a perfect day.
It was the kind of day that made me feel very lucky, very loved, and very happy.
The next day we were off to the Steam Museum's Steampunk exhibit and then to Kew Gardens, which were gorgeous and huge and we walked absolutely miles and miles. Then we had a quiet night at my lovely little rented flat, and the next morning I was off.
The month went way too fast, but it was perfect. And I even managed to dunk my deadline, which felt very good. Also, if any UK folks want signed copies of my first two books, there are TONS at Forbidden Planet in London. 😉
And now that I've mostly recovered from my jet lag, I'm off again! Tomorrow I leave for Denver, where I have RomCon and some other fun events planned by the ever-nefarious Mario Acevedo. The night I arrive, in fact, Mario's arranged an orgy of debauchery he's entitled Mucho Mojo. If you don't believe me, he's making us perform "spicy readings," and he's threatening to bring a bull whip. Pervert.
Then it's off to the equally raucous RomCon, where I'll be doing loads of events.
Finally, we've got another, separate signing that Sunday at the Broadway Book Mall, so if you're not able to make RomCon please see me there!
Then I come home for a day before leaving for AAD in Philly, but that's another blog post.
I will leave you now, with some Pimpage. There's been some great releases this week, from some of my fave people.
First up, we have Rachel Caine's new book Working Stiff, from her new Revivalist series. It looks awesome! I'm a huge fan of Rachel Caine. I love her writing, and she was so very kind to blurb my first book. This series, meanwhile, looks awesome, and a big departure from her other books. I also adore this cover!
Next up is the ever lovely Kat Richardson, a good friend of mine and someone whose work I greatly admire. She's got the latest in her Greywalker series out, Downpour! Like all her covers, this one's a stunner: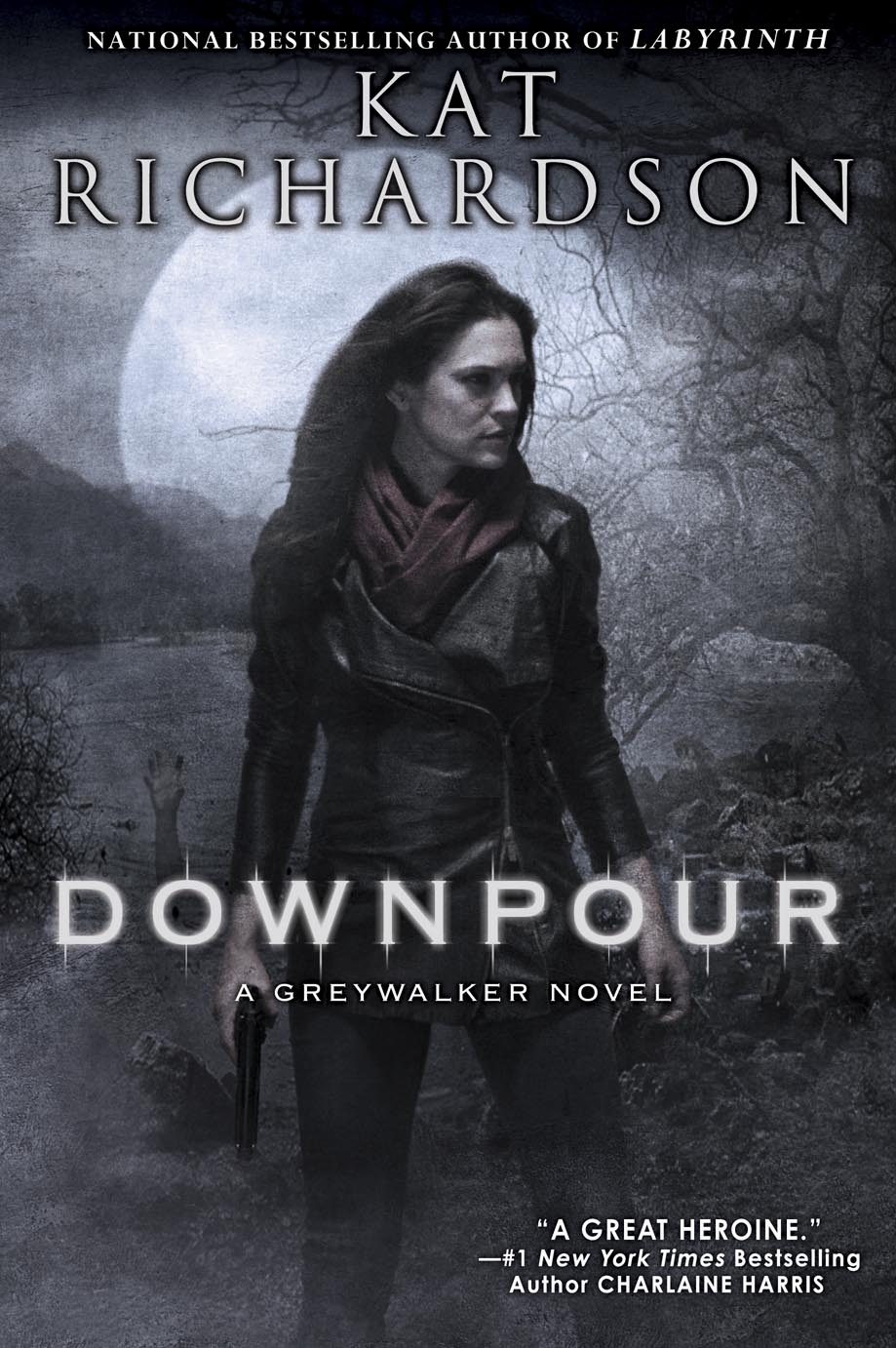 In the arena of Romance, I was lucky enough to meet the fabulous Louisa Edwards last year at Romantic Times, and she's got a release out this week, as well. It looks just as delicious as her other books!
Jennifer Estep's new book is also getting a lot of buzz. I've not yet read or met Jennifer, but this looks awesome and I think I'll have to read it very soon:
Finally, last but certainly not least, Stacia Kane has a story out in Charlaine Harris's new Antho, Home Improvement: Undead Edition. I always love these anthologies!

So there's loads of great stuff out this week, in case you can't come to Denver and watch Mario torture us. But now I have to go do laundry and pack. Viva new adventures!